Business Times – Wed, 29 June 2022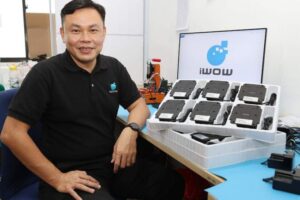 TRACETOGETHER token maker iWOW Technology saw its net profit inch up 4 per cent to S$3.9 million for FY2022 ended March, on the back of growth across all its business segments.
iWOW declared a final dividend of 0.36 Singapore cent a share. Excluding one-off expenses from its initial public offering in April, its net profit grew 36 per cent to S$5 million for the year.
Revenue for the year rose 31 per cent to S$34.5 million, with iWOW's IoT-as-a-Service segment revenue growing 44 per cent to S$4.1 million. This was on the back of sales growth for its electronic monitoring solutions, alert alarm system for the elderly and smart metering services.
The company's smart city solutions segment likewise saw revenue rise 20 per cent to S$28.1 million, mainly on higher sales for tracing tokens. Revenue from trading and other areas stood at S$2.4 million, driven by sales of non-core products to customers in Singapore and Hong Kong.
iWOW said it is optimistic about its long-term growth with its Singapore presence, and is gearing up for geographical expansion and the growth of its product portfolio. "In addition, the group has been working to shift its revenue mix towards the higher-margin subscription model. iWOW believes the change will enhance its ability to deliver sustainable growth to all stakeholders," it said.
iWOW has S$4.8 million in cash and S$900,000 in borrowings as of end-March. Its shares closed at S$0.245 on Wednesday (Jun 29), up S$0.005 or 2.1 per cent.